Explore Egypt's incredible monuments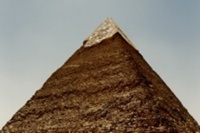 Egypt is famous for many things, but it must be most noted for the plethora of pyramids and the intriguing Egyptian culture of the past. For travellers wanting to see some of Egypt's more iconic landmarks, a trip to Cairo is a must, allowing visitors to get up close and personal with some of the most impressive structures in the world.
On the outskirts of Cairo, the Pyramids of Giza are the easiest landmarks to access. The engineering of the pyramids is awe-inspiring, especially when taking into account that each one was built with the manual labour of up to 100,000 workers. The largest pyramid at Giza was built around 2540BC and remains as a powerful monument to the past.
Giza's best-preserved and oldest pyramid is Khufu's Pyramid. It is widely believed that the fourth dynasty ruler of Egypt, Pharaoh Khufu, had the pyramid built as his tomb; it is a construction that took 20 years to complete. Whilst breathtaking on the outside, the inside passageways and chambers show the true complexity of the building.
Finally, the Sphinx is also an amazing monument to see, and at 241 feet long, 20 feet wide and over 66 feet tall, visitors will not be able to miss it. There is still some debate over when it was built, but for tourists visiting the pyramids, the Sphinx should not be missed.