Three top affordable holiday destinations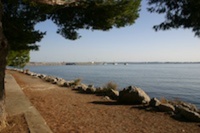 Many people in the UK may have decided to forego a holiday this year because of the bad economic climate; however, with the summer here, people may have changed their minds and be looking for a cheap destination that they can enjoy for a last minute break. There are three ideal places for this, with Portugal, Spain and Tunisia all offering traditional holiday settings and cheap prices.
The euro is currently dropping against the pound, making people's money go that little bit further. For the traditional Mediterranean retreat, both Portugal and Spain are ideal. Travelling to Faro is the ideal trip for those who want access to the stunning Algarve, which is one of the most popular holiday locations in the world. Meanwhile, Spain has many places to visit, with Ibiza offering incredible nightlife, Barcelona being a city and beach break in one, and Tenerife providing the ideal break for families.
On the other side of the Mediterranean lies Tunisia, and both flights and attractions in Tunis are very affordable. Being outside the eurozone, the pound goes a long way in this country and holidays to Africa will offer activities such as diving, wind surfing, golfing or simply sunbathing for a memorable and cheap trip away.