Enjoy a Wiggins-inspired cycling holiday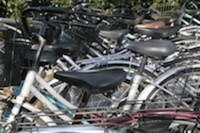 The Olympics is being watched by millions of people around the world, and most cannot help but be impressed by Bradley Wiggins and the cycling star's wins of both the Tour de France and the Olympic time trial gold medal. For those who have been inspired to take up cycling, Europe has some stunning destinations to explore on a biking holiday.
A great place for people to explore if the are travelling with families is Majorca. This island is a family favourite and offers some great cycling spots. There are a lot of cycle hire outlets available and the north east of Majorca is ideal for novice cyclists, with flat terrain and family friendly pit stops along the way.
For wildlife enthusiasts, a cycling holiday Lanzarote is a must. With coastal paths, pine forests and volcanic mountains, there is plenty to see and a lot of wildlife to spot. One of the best spots is the cycle route around Haria, offering a beautiful variety of stunning landscapes.
If holidaymakers have a fair bit of cycling under their belt then a serious spot to enjoy is Tenerife. This is a very popular holiday location for families and it also offers some challenging terrain to cover. There are cycle routes for all abilities; however with a high altitude and hot conditions, Tenerife can put even the professional cyclist through their paces.