Mediterranean for cheap post-Olympic break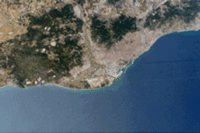 It has been revealed that many British individuals are taking advantage of cheap flights to Palma, Barcelona and Alicante to enjoy a bank holiday break. With the post-Olympic blues setting in, many visitors want a quick trip abroad to indulge in some sun and surf, and with the pound doing well against the euro, the Mediterranean is the ideal option.
Though thousands of people flocked abroad to avoid the Olympics, many British residents stayed at home to cheer on team GB. Now that the Games have finished, keen holidaymakers want to take advantage of the August bank holiday weekend. Figures have revealed that almost a fifth more searches for this weekend have been received compared to the weekend of 11th and 12th August, indicating that a surge of holiday trips is about to commence.
For those wanting a quick, easy and cheap break, heading to the Mediterranean is ideal. Many of the most searched places are Spanish retreats, with Malaga, Barcelona, Alicante and Palma all topping the polls. Meanwhile, Amsterdam, Edinburgh and Paris are also noting increased interest as British individuals take the time to escape for a few days of rest and relaxation.