Tourists Set to Skydive in Dubai Indoor Arena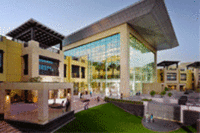 Dubai has long been a hotspot for British travellers wanting to experience something extraordinary. Rising out of the dusty and barren desert, the urban sprawl of the city towers into the sky, with mans accomplishments obvious for all to see. And now, the city has gained an even more exciting element, with tourists able skydive within an indoor arena.
Famous for its towering skyscrapers, ostentatious hotels, and luxurious settings, Dubai already has a host of exciting experiences for travellers. Immense malls offer the ultimate shopping experience, with globally recognised brands providing the latest and chicest styles. Meanwhile, the gold souks are some of the best in the world to acquire stunning jewellery, and an inside sky slope provides the fun of the snow without climbing to mountainous heights. And now with indoor skydiving and the feeling of the wind racing past at 55m per second there's plenty of fun and excitement to be had.
Often used to train pilots and professional skydivers, the facility in Dubai opened in April and whilst it may not be the cheapest activity it will certainly be one of the most exhilarating. With the holiday hotspot remaining ever popular, a large array of flights to Dubai are available from the UK. Whilst Swiss and Turkish Airlines provide services from Birmingham and Manchester respectively, both British Airways and Virgin offer premium economy flights, offering flyers a range of upgrade options suitable for their needs.