Fly to Jordan to Experience Dead Sea Spa Deals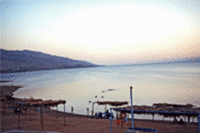 The Dead Sea in Jordan plays hostess to many body essential minerals in its water and mud - used in health and body treatment products that are much coveted around the world. Because of this and the healthy atmosphere of the area (with low pollen count, reduced ultraviolet rays, and high atmospheric pressure), the Dead Sea region is now an active centre for health research and treatment. For the tourist seeking a re-invigorating and renewing holiday get-away, the Anantara Spa provides a relaxing and wonderful way to benefit from these minerals and research.
Located in the Kempinski Hotel Ishtar, the Anantara Spa features 20 different treatment rooms in over 10,000 square meters of space. This includes hydro pools, steam rooms, Jacuzzis and saunas, indoor salt pools and outdoor pools, relaxation rooms, and juice bars and garden dining. A private Watsu pool is also available, combining massage, shiatsu, muscle stretching and dance for a full body therapy experience.
The atmosphere of the spa is one of calm tranquillity; with ozone-rich air, mineral-loaded sea water, and those precious muds taken straight from the nearby Dead Sea. Treatments combine ancient therapy methods with highly-innovated new treatments, all provided by trained Far Eastern therapists.
Package deals area available throughout the year, providing a specified amount of spa treatments as well as unlimited access to spa facilities. The recently launched its 'Scorching Spa Promotion' - a package that combines a grape seed body scrub, facial and massage and use of the spa facilities.
Airlines flying to Amman, Jordan include Alitalia, BMI, and Turkish Airlines from airports including Manchester and London Heathrow.