Air France Improves its Range of Flights to Orlando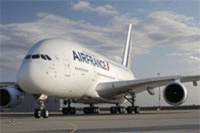 On Tuesday, Air France announced that it will begin offering non-stop flights between Paris Charles de Gaulle Airport and Orlando International Airport starting June 11, 2011.
Serving as a connection airport for UK and other European Markets, this news means that UK travellers travelling to the popular US location can make their connection flight in Paris during an early part of their trip rather than having to traverse various US airports, such as Atlanta or New York JFK before reaching their final destination.
"This is an effort we've had going on for probably 20 years to get into France from Orlando," said Greater Orlando Aviation Authority's executive director Phil Brown, who went on to say it took, "persistence with Air France to make it work."
International flying has really started to boom in recent years; partly because airlines are creating partnerships that allow them to link with already-existing hubs in locations otherwise not accessible to them. For Orlando, this new deal with Air France provides the opportunity to allow travellers straight-line access between the two hosts of Disney World facilities, as well as increased international traffic and improved airport services and facilities.
"Our aspiration is to increase our international traffic into Orlando. We think we're a worldwide destination. But it's going to take shrewd moves on our part," Brown said. "We're not going to make that overnight."
Air France is a member of Sky Team. From the UK, Air France flies from several UK airports including Birmingham, Edinburgh and Newcastle.