Cuddle Class Arrives for London Flights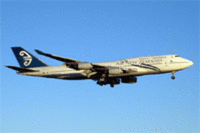 It has been revealed by Air New Zealand that they have brought their innovative 'cuddle class' seating to London flights. Having previously introduced the fares on routes from Auckland to Seattle, the airline revealed that its popularity has led to the class being rolled out onto further international services.
Beginning the flights in November 2010, Air New Zealand's cuddle class allows passengers to buy cheaper adjoining seats to their own which can then be flattened and turned into a bed. The seats have bridged economy and business classes nicely, allowing for individuals to spend a little more and get more luxury on their long distance flights. So whether travelling in family groups or couples, buying a third empty seat can make economical sense for those who want a little more comfort.
Having seen success on other routes, Air New Zealand has now added the class to their services flying from London to Auckland via Los Angeles. The first service, which took off on Saturday 2nd April aboard the airline's B777-300 was sold out, highlighting just how in demand the new fares are. Speaking of the cuddle class seating Air New Zealand's UK and Ireland UK manager, Chris Myers, said "It's hugely exciting that our customers from the UK and Europe are amongst the first to be able to enjoy what we believe to be the best long haul flying experience that looks after everyone on the plane from families to business travellers to holiday makers."