Stansted Highlights Turkey's Continued Appeal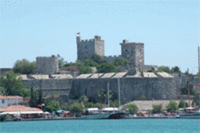 For British travellers, there is nothing quite like visiting the Mediterranean to get some sun. With British weather notoriously unreliable, holidaymakers want to ensure that they get a decent few weeks of sun when getting away. With this in mind, Stansted airport's managing director explained that Turkish destinations would continue to thrive.
Following a number of new routes opening up at Stansted airport which allow easier travel to destinations in both Turkey and Greece, managing director Nick Barton, revealed that for British holidaymakers wanting a hot climate, were likely to find their wishes granted in the south eastern European locations. "Links to Greece have always been extremely popular and Turkey continues to grow as one of the leading destinations for guaranteed sun on short-haul travel," Mr Barton said.
Over the past few months London Stansted has revealed a large range of new services to destinations in the region including Thessaloniki and the popular Greek island of Rhodes. Meanwhile, Turkish hotspots including Izmir, Dalaman and Bodrum have all been added to the list of flight destinations.
Stansted airport continues to grow in importance for British travellers wanting to get away on their summer holidays. The port was recently revealed in a Skytrax survey to be the world's leading operations for low cost flights. Meanwhile, with a gaining portfolio of routes to some of the world's holiday hotspots, including those in rising Turkey and Greece, the popularity of Stansted is set to grow over the coming months and years as British tourists venture abroad.