Top Holiday Destinations for Environmentally Friendly Retreats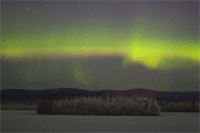 With many people becoming increasingly aware of the need to protect the environment, 'green' holidays are becoming more popular. On March 26th 2011, Earth Hour took place in 134 countries which saw landmarks, homes and businesses turn off their lights for an hour. In the same spirit the UN has revealed the top spots for travellers who want to visit some of the most environmentally friendly nations in the world.
Iceland is one of the world's greenest nations with almost 100 per cent of the country's power coming from renewable, hydropower and geothermal sources. There is also plenty for visitors to do in Reykjavik, with individuals able to experience the iconic Northern Lights, visit alien-like landscapes, and enjoy bubbling thermal spas. Switzerland also generates a lot of its power from glacier melt and hydropower and has some the richest biodiversity in the world. The country also has a wide range of things to do and see within the clean and green cities of Basel or Geneva.
For travellers looking to Scandinavia, both Norway and Sweden have been highlighted by the UN as environmentally friendly nations. Sweden in particular is covered with huge swathes of natural forest and is ideal for visitors who want to enjoy outside activities such as hiking and fishing. Stockholm won the 2010 award for European Green City, and with flights becoming increasingly available, travel is easy. Meanwhile, Norway is also the prime location for travellers wanting to explore mountains and parks in a nation which is powered mostly by water energy. So for British travellers looking to get away this year, visiting one of the world's most green nations could offer inspiration and excitement.