Top Holiday Destinations Highlighted by Glasgow Airport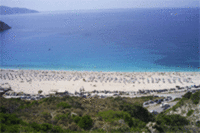 Glasgow Airport has launched its latest Summer Flight Guide, highlighting top holiday destinations for British tourists to visit this year. The guide which will be distributed to thousands of households, supermarkets and travel agents across Western Scotland, has highlighted Izmir, Kefalonia and Cape Verde as some of the best places to go to.
In a bid to show locals some of the best places to visit the 2011 Summer Flight Guide is packed with flight information, including Glasgow airports new routes and extra destinations for the year's summer season. The guide also shows off Glasgow airports facilities including their new, state of the art, food hall.
Speaking about the upcoming season managing director of the airport, Amanada McMillan, said "We're looking forward to what promises to be a busy summer period and the addition of five new routes is fantastic news for the airport as it help strengthens our offering to passengers." She added that due to growing demand airlines were providing additional services for popular routes and customers would find all the latest mod cons available during their journey.
Some of the top locations highlighted are Nice, Izmir, Venice, Kefalonia and Cape Verde, all of which are being serviced for the first time from the Scottish airport. Meanwhile, destinations offered by US Airways, British Airways and easyJet are adding additional flights to their range, while from September keen travellers will also be able to visit Reykjavik with Icelandair.