Monarch to Offer More Manchester Flights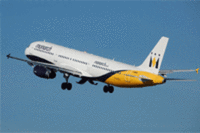 It has been revealed by the UK's largest independent charter airline Monarch that they are to increase their offerings from Manchester airport. In addition to offering summer services to Bodrum and Corfu this year, 2012 will see an array of new flights to Italy, France, Greece, Portugal and Spain.
Offering a huge number of new flights in 2012 the move will see Monarch move into the more mainstream scheduled market. Chief executive of the company, Conrad Clifford, revealed that new aircraft were to be bought to provide extra services, and that card fees were being changed, with credit card bookings costing a fixed rate of £10, whilst debit card fees would be scrapped altogether.
Monarch flies to a large range of locations already, including the Gambian destination of Banjul, and Rhodes in Greece. However, with package holiday demand falling, the airline is to move into the scheduled market. And to do so they will be increasing their services, in particular, at Manchester.
Mr Clifford explained that whilst competition was high, Monarch offered more leg room and hot meals. He added "Manchester is very important to us and we have been there a long time, it sits as our biggest base, alongside Gatwick," before revealing that the airline were "looking at introducing countries [including] France and Italy, as well as expanding the number of destinations [in] Spain and Portugal."