Four New Routes Unveiled by Korean Airlines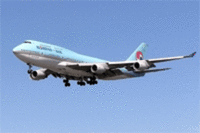 Korean Airlines has revealed that it is to start four new routes from Seoul between June and October. Making use of their Airbus A380, the airline will initially operate a daily service between Incheon Airport and Narita, before adding more long haul flights.
Starting on 17th June, Korean Air will begin daily services to Tokyo's Narita, adding to the current 21 weekly flights that the airline already provides on the route. However, of particular interest for British travellers will be the more long haul international destinations due to be added to the airline's portfolio. These include an Incheon to New York service, and a Bangkok route, both of which will start in August. Meanwhile, from 26th September Korean Air will start a thrice weekly service between Paris and Incheon, offering European residents even more travel options.
There are already numerous flights between these cities, with Korean Air utsing its place as a member of the SkyTeam alliance to build up a considerable network of services. However, these new flights will be in addition to those already offered, with a total of 11 weekly flights between Incheon and Paris when the new service starts. And with another five Airbus A380's due for delivery before the end of 2011, passengers with this company can expect the number of routes to expand further still.