EasyJet to Make Southend an International Airport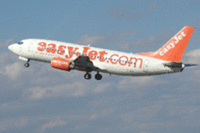 It has been revealed that a major commitment by easyJet will turn Southend airport into an international hub for the Olympics 2012. With the budget air carrier to offer a range of international flights, travellers to the 2012 games will have more options when it comes to accessing London.
In 2012 there will be a huge buzz around London as large numbers of tourists flock to the Olympics. There may also be a large number of British holidaymakers heading abroad, as disgruntled residents without tickets take a break. EasyJet has revealed that they will offer a range of flights to Milan, Berlin, Madrid and Belfast. The first services to start will be in April, with flights to Ibiza, Faro and Barcelona the ones taking to the skies. And with connections to the European hub of Amsterdam, the new network will provide huge intercontinental travel possibilities.
EasyJet's Customer and Revenue Director, Catherine Lynn, said "In summer 2012 we're expecting to see huge demand from passengers right around Europe to come to London. We expect easyJet to fly more people into London next summer than any other airline, and Southend will be the closest large airport to the Olympics. We're going to maintain our regular services - this is an opportunity to increase our capacity." And with many people also wanting to escape the capital and crowds, the new services at Southend could prove the ideal option.