New UK Flights with Lufthansa Revealed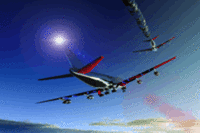 German airline Lufthansa has revealed that they are to start new flights from Aberdeen later in the year. Offering services to Frankfurt, the route will provide the ideal travel option for those wanting to explore Germany and beyond.
Frankfurt is Germany's key financial centre, and for this reason it a very important location for business. In addition, Frankfurt airport serves as an international hub for passengers to access numerous destinations across the world.
From October Lufthansa will begin a thrice daily service between Frankfurt and Aberdeen aboard one of its Embraer E190 aircraft. With 100 seats the plane will offer two classes, with flights carefully timed so that they coincide with a range of Frankfurt based connections.
General Manager of UK and Ireland for Lufthansa, Marianne Sammann, said "This new service from Europe's oil and energy capital is a direct response to business traveller demand and will strengthen Lufthansa's position in the world's key oil and energy markets where we serve almost 80 destinations in Europe, Africa, Middle East, Asia and the Americas." And for those in Scotland looking for the perfect travel option, Lufthansa's new service will open access to Germany and beyond.