Top Holiday Hotspots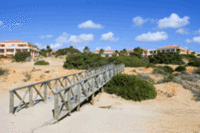 Whilst numerous surveys of late have indicated that Spain could be losing some of its holiday appeal to destinations further afield, a new survey has showed that the Mediterranean nation remains a top hotspot for British individuals. The survey by ABTA ranked countries in order of travel insurance consumption, revealing that Spain topped the list.
Whilst holiday home surveys have revealed that destinations such as France are proving increasingly popular, travel association ABTA's 2011 Consumer Trends Survey showed that French locations were still second to Spain. Meanwhile, Greece, Turkey, Italy and Cyprus also scored highly in the travel trends for the year.
Mark Tanzer, ABTA's chief executive, said "For many years Spain has been our favourite overseas holiday spot. One of the main reasons for this has been the amazing welcome and facilities that Spain and its people offer to families." With Madrid offering a thriving inland city, and popular places such as Barcelona, Alicante and Ibiza offering a variety of entertainment, Spain has a lot to offer. And with British individuals having to be particularly careful over spending, Spain's very reasonable prices also add another incentive for those looking to get away.