Top Destinations in New Zealand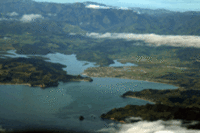 The city of Auckland is one of the most popular destinations in the region. Fishing and sailing enthusiasts in particular are drawn to the area and those who are looking for something to do on evenings out will not be disappointed. Beaches in the region are popular with families. The capital city of Wellington is one of the windiest points in the country but still gets plenty of tourists each year. Visitors can take in the national museum and take ferries to the other islands.
The opportunity to learn more about Maori culture should not be passed up while in the region. The town of Rotorua is one of many areas that offer the chance to do this, with concerts and cultural centres.
In the countryside, Napier is in the heart of wine-making country - something else that New Zealand is famous for - and the countryside is some of the most beautiful to be seen in the region. Visitors to the area of Lake Taupo can see plenty of amazing scenery, such as waterfalls, parks and mountains. Kaikoura is a good place to go whale watching and this is another popular pastime with tourists to the region. Swimming with dolphins is also something that many people try while there and is often a once in a lifetime experience.