Top Scuba Diving Destinations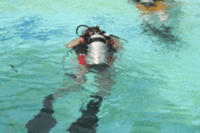 Florida in the US offers excellent value for money and there are direct flights to Miami from a number of UK airports. The coastline of the state is home to a number of dive schools that can train those who are new to the sport and who can supervise dives for those who are more experienced. Florida also has the added benefit of numerous theme parks for amusing the children and lots of lively nightlife for those who still have energy at the end of the day.
Australia is another popular destination for scuba divers. The area around Heron Island near the Great Barrier Reef is particularly famous and has much to offer the experienced diver. The diver does not have to go too far from the shore to see all that the sea in the region is hiding. Flights to Brisbane are regular and there are connections that can be made to the smaller airports in the area, such as Cairns.
Hawaii is another destination that is ideal for those who want to find out more about what is under the water. Many of the islands have dive schools and there are plenty of guided dives that can be taken. Creatures that can be seen there include giant turtles, sharks and whales.