Visit Zanzibar for an Idyllic Beach Retreat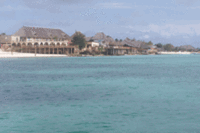 There are an enormous range of top beach retreats around the world and the East African island of Zanzibar may not always spring to mind first. However, this beautiful spot has gorgeous weather and idyllic beach conditions, making it an ideal spot for a holiday at any time of year.
Africa as a whole is becoming a more accessible and in demand location for holidays, and Zanzibar offers a huge wealth of spots to visit in addition to its glistening beaches. Whilst the palm fringed sand is certainly a lure, so too are the bustling towns, water sports and thriving bazaars where great buys and souvenirs can be found.
Stonetown is one of the best urban areas to visit and, being the island's capital, has much history to discover. The Hamamni Baths are the most preserved monuments on the island, whilst the jewellery bazaar sells precious gems and stones, which make ideal gifts.
For the best beaches, Matemwe has large stretches of white sands fringed with palm trees and, without huge resorts, visitors can stay in small lodges or private homes for the ultimate relaxation. With a range of airlines including Qatar Airways and Virgin Atlantic offering flights to Zanzibar, the island is more accessible than ever before. For a stunning and scenic break, Zanzibar is the ideal spot.