Three Top Ski Spots to Enjoy in the United States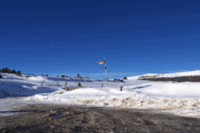 The onset of winter often starts a huge amount of excitement for sports enthusiasts looking to indulge in snow and ice for skiing and snowboarding. For those heading to the United States there are three top locations which shouldn't be missed and which will give a winter sports retreat like no other.
1. Jackson Hole, Wyoming
Jackson Hole is one of the best skiing resorts in the entire world, and travellers will be able to enjoy a highly luxurious celebrity resort whilst also being surrounded by the area's original soulful atmosphere. It is ideal for families, with its Kids Ranch the perfect learning centre for children. With a huge 4,139ft vertical drop, there are plenty of thrills for even the most consummate professional skier.
2. Telluride, Colorado
Telluride has a backdrop of stunning canyons, making it both a scenic and ski driven hotspot. Accessible from Salt Lake City, new terrain opened over the past few year and new ski lifts offer access to 14,000ft overhead peaks. With the stunning Revelation Bowl, Telluride is a must ski spot for keen winter sports enthusiasts.
3. Vail, Colorado
Colorado also offers Vail, a huge area of 5,289 acres through which to ski. Located on the right side of Vail pass, more snow is provided here than resorts located on the left side, allowing increased opportunities to play on snowy slopes. It is the largest area of skiing in the US, and as such offers a wide range of slopes for all abilities and something new for every trip.