Australia Superb for February Breaks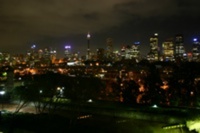 Holidaymakers wanting to head down-under might like to consider February as an ideal time to visit this popular destination. With the waning summer still offering a warm climate for British individuals to indulge in, heading to Australia at the start of 2012 will be the perfect way to escape the UK's cold season.
For beach lovers, February is still a time for beach days, with both Melbourne and Sydney offering great stretches of coastline to indulge in. Travellers to Sydney will find the entire city alight from 16th February to 6th March due to the annual Gay and Lesbian Mardi Gras, which is a huge celebration on the social calendar that caters to more than just the LGBT community.
Meanwhile, Sydney's Chinese New Year also normally occurs during February, with an annual parade taking place and other cities across the country having lantern parades. Sydney also hosts dragon boat races in Darling Harbour, making the festival a great reason to travel during the early part of the year.
With a large range of flights operating between the UK and Australia, including those by Etihad, British Airways and Virgin Atlantic, holidaymakers have a wide choice of travel options. For those wanting to escape the British winter, Australia could be the ideal destination.