Caribbean getaways ideal as rain floods Britain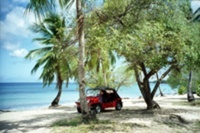 April showers have not gained their name by chance, and in 2012 this month has seen a large amount of grey sky as the clouds rolled in. Dampening many people's spirits, holidaymakers have been looking to escape the gloomy weather for something a little special. For those who want an exotic escape, the Caribbean is one top place to head for.
Though there is a lot going on in Britain this year, including the Queen's Diamond Jubilee and the London Olympics, many residents are choosing to escape for shores a little more serene. Virgin Atlantic has revealed that the Caribbean is particularly popular, with spokesman Greg Dawson saying: "Britain's bad weather has created a flood of passengers eager to fly to sun-soaked destinations such as Barbados, St Lucia and Antigua."
The Caribbean is famed for its tropical climate, and its palm-fringed beaches with crystal blue waters attract millions of people from around the globe every year. Each island has its own unique character, with cultural influences playing a big part in daily life. Whether visitors want to lie on the beach all day sipping rum and coke, or want to indulge in activities such as scuba diving or walking, the Caribbean is a great destination for 2012.