London Heathrow to Hanover Cheapest Fares
The lowest fare found from London Heathrow (LHR) to Hanover (HAJ) was £142 with British Airways. The fares shown here are the lowest flight prices to Hanover obtained in actual searches by Just The Flight customers. To search and book flights to Hanover, please enter your travel requirements in the search form above, and click the search button.
Don't miss Oktoberfest in Hanover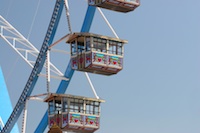 Hanover, Germany will soon be invaded by scads of partygoers, all determined to make the most of this year's wild Oktoberfest celebration. For two weeks in late September until early October, Hanover boasts the second largest Oktoberfest in all of Germany, falling second only to Munich, the event's city of origin.
The celebration spans 16 days. Hanover puts up two enormous tents, each seating over 1,000 visitors to supplement the inns, cafes and taverns which will be packed to the rafters with enthusiastic revellers at this year's event.
A fairground is planned, sporting rides and food stalls, as well as, of course, beer of all descriptions and varieties.
Visitors to Hanover from London can avoid the crush of the 6 million people descending upon Munich for the Oktoberfest there, while enjoying the jovial party the festival represents. The event is by no means small, with approximately 1 million visitors to this beer-lovers festival. This year's offerings include beers from all over Germany. Festival goers will want to pace themselves. German beer is quite strong and can be overwhelming if it's imbibed too quickly. The beer tents offer a variety of flavours from all over Germany, as well as traditional food and other treats sold from stalls throughout the grounds.
Scheduled entertainments include a carnival, including rides, live music, games and all manner of carnival attractions. A giant flea market will coincide with Oktoberfest, offering more distractions than one can enjoy in a week's time.