Galway Cheapest Fares
To search and book flights to Galway in 2013 and 2014, please enter your requirements and click the search button above.
Galway: First for Families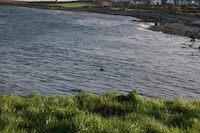 County Galway, situated on the west coast of Ireland is child-friendly, making it a great destination for family holidays and kids of all ages. With plenty to keep the children busy, Galway offers a range of adventure pursuits, Blue Flag beaches, water parks, pools, and playgrounds galore.
From Galway Bay, just a one-hour ferry ride will take you to the beautiful Aran Islands; making a superb day out and a great introduction to traditional Irish life. Galway Bay also offers sailing trips and deep-sea fishing.
Galway is fond of its festivals, which are held throughout the year, although more particularly in the summer months. If your visit takes place in July or August, watch as Galway puts on its party hat and entertains as only the Irish can with concerts, film, and arts festivals.
The ever popular and distinctive traditional Irish dancing can be seen in many of the pubs and hotels all year round, or if you feel energetic why not have a try yourself?
No trip to Galway would be complete without a visit to a real Irish ceilidh with music, song, dance, a glass or two of the 'black stuff' and a great deal of 'craic' too! The Irish people are a friendly and warm-hearted lot and this is especially true in Galway where visitors can expect a warm Irish welcome.