Katowice Cheapest Fares
The lowest fare found to Katowice (KTW) was £113 with Wizz Air. The fares shown here are the lowest flight prices to Katowice obtained in actual searches by Just The Flight customers. To search and book flights to Katowice in 2013 and 2014, please enter your requirements and click the search button above.
Katowice holds the Annual World Festival of Naive Art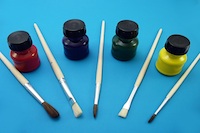 The Annual World Festival of Naive Art is held in Katowice, Poland. Within the region, is is one of the biggest art events and people from all over Europe come to collect or simply admire the work on display. The festival takes part in Spring and lasts about a month.
Nearly 200 artists come to this destination to take part in the festival from across the globe, particularly the destination of Cuba which is renowned for its Naive art. Although still a relatively young festival it has been very successful. Its originated in 2005 which saw 39 artists and 3700 attendees. Its success is mainly due to the fact that a lot of effort has been made to involve the local people thereby making them major participants in the development of the event.
As an art form, it is not regarded by many as so well understood. Although it does not follow any particular art rules it is not the same as contemporary art. One example of an artist is Henri Rousseau who used his own form of perspective. The free festival is a chance for visitors to appreciate this type of art expression.
As well as installations there are art contests and workshops held by world recognised artists. There are also guided tours available in which visitors can learn more about naive art and hear what the artists have to say first-hand about why they use this form. Visitors have the chance to vote for their favourite artist and the one with the highest number of votes is presented with the Public's Prize on the last day.