Weipa Cheapest Fares
To search and book flights to Weipa in 2013 and 2014, please enter your requirements and click the search button above.
The Weipa Bullride Takes Over a Sleepy Village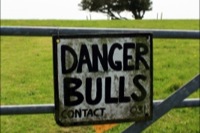 Would you like to see a real life bull ride? If the answer is yes, you have the chance to do just that in Weipa, Australia. It is definitely an event you will never forget.
In August of each year, the sleepy location of Weipa in Australia is transformed. It is taken over by people wanting to get a taste of bull riding.
The event takes place on the touch grounds in Weipa and is organised by the Weipa Rodeo Association Committee. There is also a bull riding school for those wanting to try their hand at this activity for the first time. This is organised before the gates open for the main event. The idea is to stay on the bull for as long as you possibly can, but even if you have not got the nerve to do it, you can still watch others trying to succeed.
There is plenty more to do at the Weipa Bull ride as well. Entertainment, food stalls and a licensed bar will be there to satiate your appetite, whatever you might want to enjoy. You can also take part in various raffles and enjoy the music until late. As you can see, Weipa is a different place entirely while the bull ride takes place. Eventually though it returns to its usual sleepy and relaxed self.
The Weipa Bull ride is a great example of an event that gives you a taste of the local culture in another country. Why not try it for size when you visit?