Air One Flights and Routes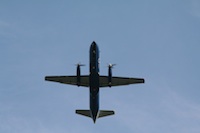 Air One's network covers 25 Italian cities, comprising of Alghero, Albenga, Bari, Bologna, Brindisi, Cagliari, Catania, Genoa, Lamezia Terme, Lampedusa, Naples, Pescara, Palermo, Pantelleria, Pisa, Reggio Calabria, Trapani, Trieste and Venice, with Olbia and Parma-Tortolì as summer destinations.
With having more than 30 per cent of the domestic flight market in Italy, Air One has added even more ways to get around the country. Air One has extended its routes to include a quick Milan to London flight. The company's Airbus A330-200 is also taking over the Alitalia flights between O'Hare at Chicago and Milan as well as the Milan to Boston route. Each of these Airbus planes has a capacity for 201 economy seats as well as additional seats for business class.
Italy's second largest airline, Air One offers non-stop transatlantic flights with connections in Rome five times per week. Being as they are partners with US Airways, United, and Lufthansa, Air One allows its customers to redeem their air miles with any of these companies for a flight on Air One.
The independent Italian airline is based at Rome's Leonardo Da Vinci Airport. It provides flight services to more than 22 cities across the globe, including Milan, Rome, Turin, Venice, Palermo, and Caselle. They also fly into tourist resort islands such as Pantelleria and Lampedusa.
This dynamic airline has rapidly grown, expanding to cities such as Bari, Lamezia Terme, Florence, Pisa, Trapani, Genoa, Cagliari, Albenga, Brindisi, Cueno, Pescara, Catania, Reggio Calabria, Naples, Lampedusa, Bologna, Trieste, Pantelleria, and Alghero.
Air One has regular international flights to Barcelona, Charles de Gaulle International Airport at Paris, Athens, Copenhagen, Berlin-Tegel International Airport at Berlin, and London City Airport at London.