Business Class Flights to Lanzarote (ACE), Spain
Book Business Class to Lanzarote
Lanzarote Cheapest Business Class Fares
To search and book business class flights to Lanzarote from the UK, please fill in your travel requirements above and click the search button. The fares we display are found by actual searches made by Just the Flight customers within the last 7 days.
Arrecife Airport enjoys Success with New Terminal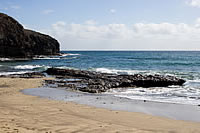 Arrecife Airport serves the popular island destination of Lanzarote and is in close proximity to its busiest resort, Puerto del Carmen. Arrecife Airport handles passenger traffic of just under five million each year and is Spain's 10th busiest airport.
Formerly a one terminal airport, the consistently high demands made on the airport brought about an evident need for airport expansion. A new terminal has been recently added in order to improve the airport and cope with the perennial popularity and traffic to this sunny Canary Island. The brand new Terminal One building houses all international flights with Departures upstairs and Arrivals on the ground floor. The previous terminal building has been completely refurbished and upgraded and now handles all domestic flights as well as flights between the other Canary Islands.
A new VIP lounge has been added to the brand new international terminal and is proving to be a success with excellent passenger feedback. The lounge has full internet access and serves hot and cold meals away from the crowds. Newspapers and comfortable seating areas are available. The lounge, named the Guacimeta, is owned and managed by the Spanish Aviation Authority and has proved a welcome addition for the corporate traveller.
Lanzarote's biggest income generators are tourism and property development. The airport deals with corporate travel and business flights alongside the heavy tourism traffic. The year round warm climate ensures that it will continue to attract both groups.