Malaga Cheapest Business Class Fares
The cheapest Business Class flight to Malaga was £274 with British Airways, followed by Iberia at £297 and Air France at £403. Other airlines with business class fares include Air Europa and Swiss.
To search and book business class flights to Malaga from the UK, please fill in your travel requirements above and click the search button. The fares we display are found by actual searches made by Just the Flight customers within the last 7 days.
Malaga Airport welcomes New Routes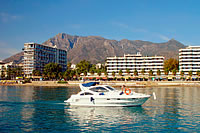 Malaga Airport, the main airport for the popular Costa del Sol, has recently seen an increase of 39% in flights from the UK. As a result of this demand, BA City Flyer, owned by British Airways, has announced new routes flying from London City Airport to this popular destination.
With over 12 million British tourists visiting Spain every year and over 300,000 owning either a first or second home there, it comes as no surprise that demand remains steady and rising.
The new London City Route will not only serve Londoners but the South East too. Many passengers prefer to avoid the mighty Heathrow, and London City Airport provides a solution to that with excellent links.
Many property development firms have flourished on the Spanish coast providing construction jobs, local investment and a surge in the economy. The all year round climate attracts tourists throughout even the mild winter months. Spain's popularity shows no signs of wavering.
The new flight routes will depart three time a week from London City and are expected to be a success with passengers. With Malaga airport covering a wealth of resorts from the family friendly Lloret de Mar and Benidorm, to the more exclusive Marbella and Puerto Banus, there is likely to be a mixture of business and tourism flying in from the City.
London City Airport is the top business airport in the UK, enjoying close proximity to the city's financial district as well as priding itself in the fastest check-in of any airport in London. The Airport is an important hub for corporate travel and business class travellers.