Auckland Cheapest Business Class Fares
The cheapest Business Class flight to Auckland was £3086 with Swiss, followed by Lufthansa at £3092 and China Airlines at £3181. Other airlines with business class fares include Qatar Airways and United Airlines.
To search and book business class flights to Auckland from the UK, please fill in your travel requirements above and click the search button. The fares we display are found by actual searches made by Just the Flight customers within the last 7 days.
Celebrate Matariki in Auckland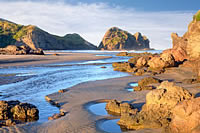 Matariki is the Maori New Year celebration and if Auckland is your business destination in late May and early June, be sure to check out this fascinating event. The festivities are heralded by the rising of the constellation of Matariki (Pleiades), a constellation which rises on the north eastern horizon, close to the rising sun. It is a time of year to look back on the past year, to bid goodbye to the departed and give thanks. It is also a time to look to the future, to plan for the forthcoming year and look forward to welcoming the next generation.
The Maoris are not the only people who venerate Matariki. Stonehenge faces the constellation as do several major Greek temples. Matariki has always acted as an important navigational aid to sailors as, unlike a number of constellations, it is visible from around the globe. From New Zealand, the best time to see the constellation is 30 minutes before dawn breaks.
In New Zealand, traditional Maori celebrations died out during the 20th Century but have been revived once again in the 21st Century. Nowadays, the Matariki Festival is an important part of the Maori calendar once again and the rising of the constellation kicks off a month-long series of festivities to celebrate and be thankful for the seas and land around New Zealand. Events include parties, exhibitions, dance and musical performances, food and drink festivals and special events at the observatory.