Alicante Cheapest Business Class Fares
The cheapest Business Class flight to Alicante was £276 with British Airways, followed by Iberia at £357 and Lufthansa at £389. Other airlines with business class fares include Swiss and Air Europa.
To search and book business class flights to Alicante from the UK, please fill in your travel requirements above and click the search button. The fares we display are found by actual searches made by Just the Flight customers within the last 7 days.
Celebrate one of Spain's Most Traditional Events in Alicante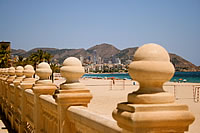 The Moros y Cristianos (Moors and Christians) Festival is probably one of the oldest and most spectacular festivals in Alicante, and it is also an opportunity to join in with a very traditional festival which celebrates the unique heritage of this part of Spain.
This is one festival where you are not tied to being in the city at one fixed point in the year as it is celebrated at different dates in different parts of the city. Celebrations take place in Villafranqueza in mid-March, Alcoy in the third week of April, San Blas in the second week of June, El Rebolledo in early July, Altozano from 12th to 16th August, and Jose Antonio in late August. So whenever you are in town, chances are that you will be able to join in the celebrations.
Each of the celebrations are slightly different but all feature a re-enactment of the fierce battles between the Moors and the Christians that took place in this part of Spain many centuries ago. Each celebration starts with a huge parade with people dressed in full military dress of the competing troops. There are mock battles throughout the days of the festival, events and parades, culminating in the symbolic defeat of the Moorish armies. Naturally, this is celebrated with spectacular fireworks displays. This is a fantastic opportunity to understand the tradition and culture of the people of this fascinating region.