Athens Cheapest Business Class Fares
To search and book business class flights to Athens from the UK, please fill in your travel requirements above and click the search button. The fares we display are found by actual searches made by Just the Flight customers within the last 7 days.
Athens Hosts One of the World's Richest Cultural Festivals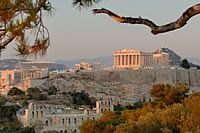 The Athens & Epidaurus festival has taken place since 1955 and is the country's oldest cultural event. It is Greece's most celebrated festival and showcases the arts in the broadest sense of the word, featuring theatre, music, ballet, performance art and exhibitions.
Taking place throughout July, over the decades the festival has attracted some of the world's leading artists from the worlds of dance, theatre and opera. Audiences have delighted in operatic performances from the likes of Maria Callas and Luciano Pavorotti, and dancing from stars of the ballet world such as Rudolph Nureyev, Margot Fonteyn and Sylvie Guillem. The event has showcased ballets by Balanchine, Martha Graham and Sadler's Wells, theatre performances directed by internationally renowned directors like Sam Mendes and Peter Hall, and operas staged by some of the world's best operatic companies such as the Bolshoi and Peking Opera companies. Many of the artists are lured to the festival for the opportunity to perform in the unique surroundings of Epidaurus' ancient and beautiful amphitheatre with its superb acoustics and tremendous sense of history.
While in the past performances were only performed in Greek, today the programme has been broadened to include not only the Greek classics but also Shakespeare and modern works, with many works being performed in English. This is a unique and unmissable opportunity to enjoy some of the world's best modern productions in ancient surroundings.