Abu Dhabi Cheapest Business Class Fares
The cheapest Business Class flight to Abu Dhabi was £1146 with JAT Airways, followed by KLM at £1227 and Middle East Airlines at £1244. Other airlines with business class fares include British Airways and Oman Air.
To search and book business class flights to Abu Dhabi from the UK, please fill in your travel requirements above and click the search button. The fares we display are found by actual searches made by Just the Flight customers within the last 7 days.
Abu Dhabi offers Business Incentives to Investors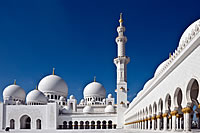 The oil rich emirate of Abu Dhabi in the United Arab Emirates has a reputation for wealth, opulence, and state of the art technology. Situated at the gateway of Africa, Europe, and Asia, and with a gross domestic product of up to $100 billion, Abu Dhabi is an ideal business destination and offers tempting government incentives to investors.
Abu Dhabi's taxation rates are regarded as almost negligible in comparison to other countries. Whilst tax on alcohol and tobacco remain high, other taxation rates very often remain below the 5% mark.
Corruption is almost nonexistent in Abu Dhabi as it contravenes Muslim law. This creates an environment of trust for its thousands of investors and business associates. Intellectual Property Laws are robust and fully protected. Business ownership is 100% with additional tax holidays.
The infrastructure is focussed towards business with cutting edge communications and internet speed that rivals that of the world's finest hotels.
Abu Dhabi is largely regarded as being one of the most stable countries in the Gulf, with enough distance from trouble spots to assure investors of stable business continuity. The Emirate is a hereditary dynasty, ensuring an absence of political reshuffles.
The airport at Abu Dhabi is undergoing major improvements with a new Terminal that will help the airport process up to 40 million passengers a year. The new Terminal will include luxurious first class and business class lounges for corporate travellers and reflects the growing demand for Abu Dhabi as a business and tourism destination. Terminal Three will be able to process an additional five million passengers.