Business Class Flights to Barcelona (BCN), Spain
Book Business Class to Barcelona
Barcelona Cheapest Business Class Fares
The cheapest Business Class flight to Barcelona was £319 with Lufthansa, followed by British Airways at £388 and Air France at £555. Other airlines with business class fares include Iberia and KLM.
To search and book business class flights to Barcelona from the UK, please fill in your travel requirements above and click the search button. The fares we display are found by actual searches made by Just the Flight customers within the last 7 days.
Barcelona Mobile World Congress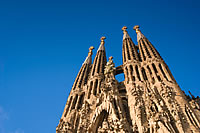 Hotels across the world look to be on the road to recovery after the economic downturn and it is business travellers who are key to the recovery due to increased travel and they are likely to spend more at their destination. Barcelona is a great destination for business travellers and tourists alike with much to offer including many attractions and events.
Barcelona is a city with some stunning architecture, sophisticated shops and a fantastic football team. However, each year the stunning architecture and even the famous footballers have to take second place to the Mobile World Congress which attracts around 500,000 visitors every year. Held each February in the large La Fira complex the event showcases the latest devices and technology from some of the biggest names in the industry. Over 1,300 exhibitors attend with stalls across 142,000 square metres. Whether it is hardware, device manufacturers, network infrastructure or software developers they will all be at the Mobile World Congress. Many companies launch their new products at the show.
Conferences outline the new developments that consumers can expect to see in the coming year and keynote addresses are given by top names in the industry such as Dick Costolo, the chief executive of Twitter. Research groups such as Gartner release reports on the latest industry trends. Recent figures revealed that 40 percent of users used their smartphones daily to update their status on social networking sites, this represents an increase of 63 percent in the 18 to 24 age group.
Business Class
The cheapest business class flights to Barcelona our customers have found in the last 7 days
London Heathrow
Barcelona
£319

Leeds-Bradford
Barcelona
£388

Leeds-Bradford
Barcelona
£555

London Heathrow
Barcelona
£586

Leeds-Bradford
Barcelona
£777