Bangkok Cheapest Business Class Fares
The cheapest Business Class flight to Bangkok was £1639 with El Al, followed by EgyptAir at £1666 and Royal Jordanian at £1675. Other airlines with business class fares include Swiss and Lufthansa.
To search and book business class flights to Bangkok from the UK, please fill in your travel requirements above and click the search button. The fares we display are found by actual searches made by Just the Flight customers within the last 7 days.
Bangkok's Annual Loy Krathong Festival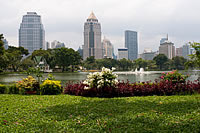 Bangkok is a popular destination. One of the most magical times of year to visit this fascinating city is on the full moon of the twelfth lunar month, when people pin their hopes and dreams on the krathongs that float along the city's river and canals.
Usually taking place in November, the sight of numerous candle-lit krathongs floating down the river is a magical sight and the sheer volume of the small craft means that the spectacle continues well into the night, under the light of the full moon.
In addition to the traditional krathong-making competitions, today the festival has grown to include a number of other cultural events and 'Ram Wong' dance performances and beauty contests are part of the festivities in many places.
For the business traveller staying in one of Bangkok's top hotels this event is easy to take part in, with many hotels on the banks of the Chao Phraya River, including the Mandarin Oriental Bangkok, the Shangri-La Bangkok and the Royal City Hotel having exclusive access to their own stretch of river bank. The hotel staff will teach you how to make and float your own krathong and you can even take part in a spot of Ram Wong dancing. Even if your hotel is not on the river front, most hotels host Loy Krathong events in their swimming pool, meaning that wherever you stay you can participate in this most magical and gentle of festivals.