Brisbane Cheapest Business Class Fares
The cheapest Business Class flight to Brisbane was £2991 with Korean Airlines, followed by Swiss at £3528 and Lufthansa at £3531. Other airlines with business class fares include Royal Brunei and Finnair.
To search and book business class flights to Brisbane from the UK, please fill in your travel requirements above and click the search button. The fares we display are found by actual searches made by Just the Flight customers within the last 7 days.
Brisbane gets Fashionable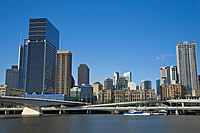 When it comes to fashion designers, Brisbane, home to over 14 major fashion houses and host to an annual fashion festival, is now regarded as a hot destination for fashionistas.
Brisbane is home to hundreds of individual designers, from worldwide success stories to fledgling graduates, many of whom are achieving global fame through celebrity endorsements and worldwide commercial campaigns. Australian designers are making their presence felt on the global stage and Brisbane is emerging as an Australian fashion trade leader.
Australia's third largest city, Brisbane is gaining in popularity thanks to its cosmopolitan vibe and buzzing café culture. With world famous museums and art galleries, Brisbane is the cat that got the crème de la crème of Australia's fashion and cultural scene.
Fashionistas from the great fashion houses of London, Paris and Milan can travel in style with demand for corporate travel and business class flights increasing each year.
Flights from Europe to Brisbane can be up to 26 hours long and Virgin Upper Class offers business travellers privacy to work at a desk, or the comfort to lie back and sleep.
Business travellers can sit at the bar with a drink or choose a film and a meal in their own private space. With a bed length or over six foot long, even the long overnight flight will leave business travellers fully refreshed on arrival.
Designers, luxury hotels, and world-class cuisine help to put fashionable Brisbane on the map.