Mumbai Cheapest Business Class Fares
The cheapest Business Class flight to Mumbai was £1702 with Lufthansa, followed by Swiss at £1733 and EgyptAir at £1781. Other airlines with business class fares include Turkish Airlines and Air France.
To search and book business class flights to Mumbai from the UK, please fill in your travel requirements above and click the search button. The fares we display are found by actual searches made by Just the Flight customers within the last 7 days.
Mumbai Airport reveals "Master Plan"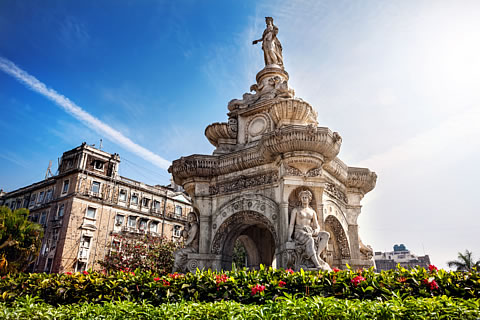 Mumbai is widely regarded as the business and finance capital of India and the airport traffic reflects this, handling up to 29 million passengers a year.
The airport, also known as Chhatrapati Shivaji International Airport is spread over two terminals, with one terminal split into two buildings. Mumbai recognises its importance as a business destination and has met this need by providing no less than eight VIP lounges. Three lounges are based in the domestic terminal, and the remaining five are in the international departures terminal. BA Club Class passengers can enjoy free access to their own exclusive VIP lounge at Gate 11.
With a growing demand and a view to accommodating up to 40 million passengers each year, Mumbai airport has launched a Master Plan to be carried out in stages over the next few years.
A brand new integrated passenger terminal is to be launched as a modern flagship, with state of the art technology and architecture combined with cultural touches that will make the terminal India's own.
To accommodate the expected increase in passenger traffic, 5000 additional car parking spaces are planned, along with 188 check-in desks, and a six lane access lane from the main Western Express Highway. A new domestic Air Traffic Control tower is also planned and is being designed to create a visual impact as well as improve and expand air traffic. Over 20,000 square foot of commercial space will be made available for franchises in the retail and catering businesses.