Boston Cheapest Business Class Fares
The cheapest Business Class flight to Boston was £1815 with United Airlines, followed by Air Canada at £1828 and Lufthansa at £1830. Other airlines with business class fares include Delta and Brussels Airlines.
To search and book business class flights to Boston from the UK, please fill in your travel requirements above and click the search button. The fares we display are found by actual searches made by Just the Flight customers within the last 7 days.
Investment in Boston Airport Given Green Light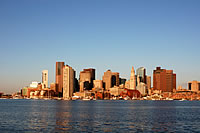 Boston Logan Airport is a four terminal airport with 94 gates covering a massive 1,700 acres of land. Logan Airport serves both national and international airlines and sees traffic of tens of millions passengers each year.
Currently New England's largest centre of transport, the destination has seen a recent increase in demand, growing month by month. The most recent figures indicate that flights to and from Europe have increased by 9.2% with overall passenger rates rising by up to 7%.
Massport, Boston Logan's Management Company, are pleased to announce a recent multimillion investment programme which will include extensive improvements to Logan Airport. The improvements will be carried out over a period of five years and is just one of 379 projects covered by the major investment fund. The plans will create jobs and increase business as well as ensuring that Boston Logan Airport can comfortably deal with its increase in passenger growth.
In total, $391 million has been allocated for exclusive use by Logan airport to improve passenger facilities and runways. The plans were approved by the Federal Aviation Authority and will utilise the Passenger Charge Facilities (PFC) funds.
Boston already has a strong reputation as a centre of commerce with some of the oldest firms in America still flourishing today. A hub for both business and education, Boston is seen as an enviable city in which to live and to visit. Many graduates of nearby Harvard University choose to remain in the area, ensuring that the calibre of Bostonian skill and talent is of the highest order.