Buenos Aires Cheapest Business Class Fares
To search and book business class flights to Buenos Aires from the UK, please fill in your travel requirements above and click the search button. The fares we display are found by actual searches made by Just the Flight customers within the last 7 days.
Business flights to Buenos Aires in demand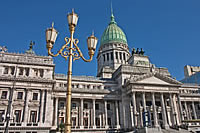 Club Class flights have recently been upgraded in order to improve the long-haul flight experience for business travellers to Argentina's capital, Buenos Aires.
Corporate travellers to Buenos Aires will now experience improved service as Club Class sections have responded to demand and risen to meet the needs of the business traveller after extensive canvassing and research.
Buenos Aires is a major South American destination, often referred to as the Paris of the Southern hemisphere. With pavement cafes, warm weather, rich architecture and a chequered political and cultural history, Buenos Aires now offers enough stability to attract and retain commercial interests.
The 13-hour flight time between London and Buenos Aires has previously been a turn off, but with more facilities and amenities added to business class, the long haul hours can now become an opportunity for uninterrupted work or rest. Beds, laptop power points, and flexible dining fit into any busy schedule and have led to an increase in business flights to Buenos Aires- a trend that is expected to continue.
As a business destination, Buenos Aires competes comfortably with Europe with state of the art accommodation, transport links, and modern infrastructure. The Argentine economy has seen improvements under the latest government. With consistently valuable exports, a vast agricultural system, and vineyards with a world class reputation that competes with France, Argentina remains a self sufficient nation with a lot to offer the world, and businesses across the globe are starting to sit up and take notice.