Business Class Flights to Corfu (CFU), Greece
Book Business Class to Corfu
Corfu Cheapest Business Class Fares
The cheapest Business Class flight to Corfu was £392 with Swiss, followed by Lufthansa at £504 and British Airways at £731. Other airlines with business class fares include Austrian Airlines and Air France.
To search and book business class flights to Corfu from the UK, please fill in your travel requirements above and click the search button. The fares we display are found by actual searches made by Just the Flight customers within the last 7 days.
Corfu an Island Paradise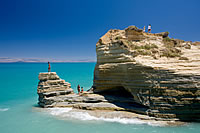 For business travellers who want to spend less, there are low-cost, twice-weekly flights from London Stansted to the Greek destination of Corfu. Many airlines have been increasing the number of flights heading to Greek destinations and these provide business travellers with extra options. Business class flights need not cost the earth and there are websites that can find business class flights with discounts of up to 50 percent.
With good weather all year round Corfu is a popular destination for British holidaymakers seeking sun and sand holidays. However, Corfu is not just about holidaymakers the island can also provide conferences and meetings at a range of venues and incentive programmes offer a wide choice of cruises which can be tailored as desired. Corfu has plenty of beautiful sandy beaches and for those who like to work hard and play hard there are plenty of opportunities for water sports.
Cruising through the blue waters of the Ionian Sea with a gentle sea breeze or diving amongst the Mediterranean fish can be a great way to recharge the batteries. The north Ionian Sea is separate from the rest of Greek waters and this gives Corfu its mild climate. It also makes sailing a much more relaxing activity. Corfu has one of the largest marinas in Greece which attracts hundreds of yachts from all over the Mediterranean. Vessels can be chartered with or without a crew. Other water sports that are available in Corfu include kayaking, parasailing, snorkelling, jet skiing, boat rides, banana rides and water trampolining.
Business Class
The cheapest business class flights to Corfu our customers have found in the last 7 days
London Heathrow
Corfu
£392

London Heathrow
Corfu
£504

London Heathrow
Corfu
£731

London Heathrow
Corfu
£837

London Heathrow
Corfu
£1006