Business Class Flights to Cape Town (CPT), South Africa
Book Business Class to Cape Town
Cape Town Cheapest Business Class Fares
The cheapest Business Class flight to Cape Town was £2201 with Kenya Airways, followed by Lufthansa at £2215 and Austrian Airlines at £2217. Other airlines with business class fares include Swiss and Qatar Airways.
To search and book business class flights to Cape Town from the UK, please fill in your travel requirements above and click the search button. The fares we display are found by actual searches made by Just the Flight customers within the last 7 days.
Cape Town's International Boat Show is a Must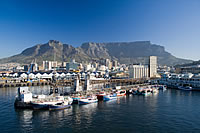 For business travellers who are making Cape Town their destination in September, the International Boat Show is well worth checking out. Whatever your level of interest in sailing, the boats on display are really fascinating and there are a number of events that take place around the show.
The main venue is Cape Town's International Convention Centre but many of the hospitality and entertainment events take place at the V&A Waterfront, a very popular tourist attraction in its own right.
The show features hundreds of pleasure boats of all types, from speed boats to dinghies. As the show has grown over the years, there is an increasing focus on the boats that are moored on water at the V&A Waterfront, these are the boats that are too large to fit into the Convention Centre. The number and variety of boats on display on the water grow year on year. All visitors to the exhibition will enjoy a free water bus shuttle service between the two venues and children are admitted at no cost, making this the perfect event to introduce the next generation to the wonders of boating. As well as the boats themselves, there is all manner of ocean equipment and technology on offer. These include some spectacular performances in the harbour of high speed craft, sky-diving and other extreme sports. Whatever your level of interest in boating, this event is great fun.
Business Class
The cheapest business class flights to Cape Town our customers have found in the last 7 days
London Heathrow
Cape Town
£2201

London Heathrow
Cape Town
£2215

London Heathrow
Cape Town
£2217

London Heathrow
Cape Town
£2259

London Gatwick
Cape Town
£2277