Cancun Cheapest Business Class Fares
The cheapest Business Class flight to Cancun was £2025 with Westjet, followed by British Airways at £2099 and Aero Mexico at £2143. Other airlines with business class fares include Air Europa and Finnair.
To search and book business class flights to Cancun from the UK, please fill in your travel requirements above and click the search button. The fares we display are found by actual searches made by Just the Flight customers within the last 7 days.
Cancun Reaps the Rewards of Multi Million Dollar Upgrade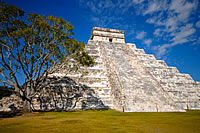 The resort of Cancun, in the South Eastern Mexican state of Quintana Roo, recently underwent a $71 million dollar upgrade. The modern resort turned 40 in 2010 but has come a long way since its birth in 1970 when the peninsula began to grow into the hugely popular resort it is today.
Over 10,000 foreign born nationals have chosen to make their home in Cancun, and it still remains the number one holiday destination in both Latin America and its home country of Mexico.
The renovations included the extraordinary feat of importing a staggering 1.3 billion gallons of sand onto the shore of the Hotel Zone. Beach life is only one facet of the resort's temptations however, with the emphasis on Cancun as a multi-faceted as well as a multicultural resort. The "Five Day route" promoted by the Tourism Authorities focuses on the natural world, the Mayan Culture, and the gastronomic delights of the area.
The resort has evolved into a family friendly destination with more to offer than just golden sands and water sports. Hotels vary from affordable to the pinnacle of luxury, with a year round Caribbean climate.
The $71 million dollar improvements will help Cancun to maintain its position at the top of the league table in the Americas. Flights to Cancun fly direct from Europe and are in demand from both the tourist and corporate travel operators, making this a global favourite from all corners of the world.