Dalaman Cheapest Business Class Fares
To search and book business class flights to Dalaman from the UK, please fill in your travel requirements above and click the search button. The fares we display are found by actual searches made by Just the Flight customers within the last 7 days.
Immerse yourself in Turkey's Unique Cultural Heritage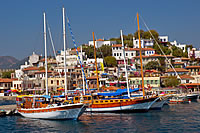 The annual Kas Lycia Culture and Arts Festival is Dalaman's festival of culture and takes place at the end of June for three days every year. Set in and around the beautiful town of Kas, with its cobbled streets and pretty harbour, nestled at the foot of the Taurus mountains, this is a charming festival with lots to see and do.
Originally a folk dance festival with performances from local and international dance troupes, in recent years the festival has expanded its remit to include wider arts events, and celebrate the unique culture and heritage of Ancient Lycia.
Renowned local artist Aydin Cukorova has taken over the curation of the event and as well as folk dancing, the festival now includes sculpture, painting and photography exhibitions, ballet performances, and concerts of all types of music, from traditional Turkish to modern jazz. Art fans can also hear internationally recognised European artists and academics discuss topical art issues in a series of panels and conferences.
What makes this festival particularly special is its setting. Poetry performances take place in the ancient theatre of Antiphellos or within the courtyards of centuries old houses, jazz recitals are in the midst of tropical gardens, exhibitions are found down tiny alleyways and dancers pirouette along the harbour.
This is a wonderful festival in a magical part of the world.