Denpasar Bali Cheapest Business Class Fares
The cheapest Business Class flight to Denpasar Bali was £2481 with Singapore Airlines, followed by Turkish Airlines at £3009 and British Airways at £3043. Other airlines with business class fares include Korean Airlines and KLM.
To search and book business class flights to Denpasar Bali from the UK, please fill in your travel requirements above and click the search button. The fares we display are found by actual searches made by Just the Flight customers within the last 7 days.
Bali is Never More Beautiful Than During Galungan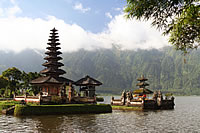 Every July, the Balinese people celebrate the festival of Galungan, when the spirits of the people's ancestors come down from heaven for five days. A feast of food, flowers and fragrance, this is one of the world's most beautiful festivals.
Probably the most important festival in Bali, preparations begin at least a month before the actual festival begins, when the traditional woven palm leaf decorations are started. During the festival, every single home puts a huge bamboo cane outside their gate, festooned with flowers, scrolls, fabric, and trailing intricately woven coconut leaves, transforming every street and alley into a fairy tale adventure.
In the days leading up to Galungan, the feast preparations start. Beautifully prepared cane, rice and beans are arranged in a traditional ritual design on highly figured silver platters. These are accompanied by trays of tropical flowers, perfume-soaked leaves and incense.
On the day itself, Balinese women carry these trays of offerings to their ancestors on their heads, wearing brightly coloured traditional sarongs in fuchsia, indigo, sapphire and scarlet. It is not just the women who are beautifully dressed, every single person wears their very best traditional costume to honour their ancestors. Once the offering and feasting is over, the children take to the streets to dance with drums and the whole island joins them in a celebration of thanksgiving and joy.
If you want to experience the true spirit of Bali, it doesn't get much better than being here during Galungan.