Dubai Cheapest Business Class Fares
The cheapest Business Class flight to Dubai was £948 with Ukraine Airlines, followed by Swiss at £1358 and Lufthansa at £1364. Other airlines with business class fares include KLM and Air France.
To search and book business class flights to Dubai from the UK, please fill in your travel requirements above and click the search button. The fares we display are found by actual searches made by Just the Flight customers within the last 7 days.
Dubai's Shopping Festival is a Bargain Hunter's Dream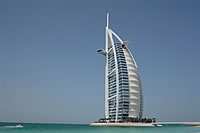 Whether you are in Dubai on business or just stopping over en route to your ultimate destination, business class travellers would do well to come to this Mecca for shopping during the month of February, when the annual Dubai Shopping Festival takes place. The festival offers shoppers substantial discounts on a wide number of goods, many of which are priced much lower than in Europe's shops all year round because of Dubai's tax-free status.
Nearly every one of the shops in Dubai's numerous malls discount their prices still further during the Dubai Shopping Festival and this is the place to come to obtain some serious bargains in electronics, clothing and accessories, designer shoes, sportswear, jewellery and watches. Visitors can also enjoy browsing the city's souks as usual, which offer a real contrast to the Westernised atmosphere of the malls, and are a great source of some more traditional Middle Eastern crafts. The souks are ideal for buying beautiful handmade silk rugs, any number of herbs and spices, or perhaps some hand painted pottery.
The Dubai Shopping Festival is not just about shopping, since there are exhibitions, musical performances, firework displays, and fashion shows available to entertain visitors as they shop. Therefore, whether Dubai is your ultimate destination, or if you are just stopping over, take the opportunity to snap up some bargains while you are there.