Business Class Flights to Fuerteventura (FUE), Spain
Book Business Class to Fuerteventura
Fuerteventura Cheapest Business Class Fares
To search and book business class flights to Fuerteventura from the UK, please fill in your travel requirements above and click the search button. The fares we display are found by actual searches made by Just the Flight customers within the last 7 days.
Fuerteventura is a Great Destination for Water Sports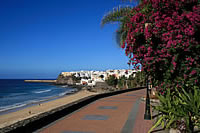 Investors in Spanish properties or businesses are likely to welcome the news that a subsidiary of BA called CityFlyer has increased the number of its flights to Spain. Spain is a popular destination for holidaymakers, but there are also many British people who own second or holiday home in the country. Business travellers should also keep an eye on the airlines as many offer discounts on business flights for a limited period, for example British Airways recently announced that it is cutting its fares by up to 29 percent in business class.
Fuerteventura has a very long coastline and this along with the warm temperature and fairly constant trade winds make the island ideal for water sports. For a number of years the Wave Classic has been held on the island and the event takes place on the northern coast of the island attracting some of the best wave riders in the world. The action can take place at various locations along the coast as the organisers decide which location has the best conditions on the day.
The Island also plays host to the Kite boarding PKRA Grand Slam in August. Fuerteventura is a great destination for water sports enthusiasts, With constant sea temperatures all year round and an abundance of marine life, diving is one of the main attractions of the island. Snorkelling in the clear waters around the island is also popular. The island has some of the best spots in the world for surfing and the reliable winds and varied water conditions mean that kite surfers of any ability can enjoy their sport.