Geneva Cheapest Business Class Fares
To search and book business class flights to Geneva from the UK, please fill in your travel requirements above and click the search button. The fares we display are found by actual searches made by Just the Flight customers within the last 7 days.
Geneva is a Car Enthusiast's Dream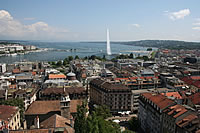 For over 100 years, Geneva has hosted the International Geneva Motor Show every March. The show is one of the world's biggest motor shows and is the venue of choice for many manufacturers to launch new models and technological breakthroughs.
Known as the Salon International de l'Auto in French, the show attracts over 70,000 visitors over a ten day period. Held in Geneva's vast Palexpo convention centre in seven separate halls, the event is organised by the Organisation Internationale des Constructeurs d'Automobiles.
Ever since its inaugural event in 1905, the show has seen the launch of some ground breaking models from every major car manufacturer, from Fiat to Ferrari, from Lexus to Lamborghini. Of course nowadays it is not just the driving experience and the style of the car that are important, but fuel efficiency and new technologies to reduce carbon emissions are also high on buyers' agendas. To this end, the show has an entire hall dedicated to cars powered by electricity and other alternatives.
As Switzerland does not have a national car industry, it is viewed by many manufacturers as a neutral venue to launch their products. For the car enthusiast, this is the world's best place to see some of the world's greatest supercars, new prototypes, technological breakthroughs and exciting new developments in in-car entertainment and comfort.