Business Class Flights to Havana (HAV), Cuba
Book Business Class to Havana
Havana Cheapest Business Class Fares
The cheapest Business Class flight to Havana was £1628 with Iberia, followed by Air France at £1673 and Aero Mexico at £1680. Other airlines with business class fares include British Airways and KLM.
To search and book business class flights to Havana from the UK, please fill in your travel requirements above and click the search button. The fares we display are found by actual searches made by Just the Flight customers within the last 7 days.
Havana Has the Coolest Sounds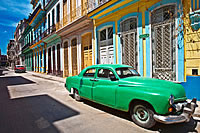 The Havana International Jazz Festival (sometimes known as the Cuba Jazz Festival) was the brainchild of Bobby Carcasses in the late 1970s. From one initial outdoor concert, the event is now four jam-packed days of jazz held every December in a whole host of venues, attracting leading musicians and jazz aficionados from across the world. Cuba and jazz have a long and happy association and the island's position as a melting pot of Afro-Caribbean, Spanish and American cultures has produced a unique and recognised sound known as Latin Jazz.
The original venue for the jazz festival, the Casa de la Cultura de Plaza, has been renamed the International Jazz Festival Plaza since that inaugural event, and it is still one of the leading venues for this festival, although many of the bigger shows now take place at Havana's major venues like the Amadeo Roldan, Nacional and Mella Theatres. In addition to these big ticket events, there are hundreds of smaller performances in bars on every street, and these are the venues where you might see a world class player tinkling the ivories on a night off. Havana's benign climate also lends itself to outdoor impromptu jam sessions on its streets, most noticeably along the main drag, the Malecon. Now curated by leading Cuban musician Chucho Valdez, the festival promises to be even more exciting in the coming years with the recent relaxation in travel restrictions for US citizens.
Business Class
The cheapest business class flights to Havana our customers have found in the last 7 days
London Heathrow
Havana
£1628

London Heathrow
Havana
£1673

London Heathrow
Havana
£1680

London Heathrow
Havana
£1683

London Heathrow
Havana
£1830