Hong Kong Cheapest Business Class Fares
The cheapest Business Class flight to Hong Kong was £1694 with KLM, followed by Air France at £1695 and Finnair at £1741. Other airlines with business class fares include Swiss and Lufthansa.
To search and book business class flights to Hong Kong from the UK, please fill in your travel requirements above and click the search button. The fares we display are found by actual searches made by Just the Flight customers within the last 7 days.
Hong Kong's Chinese Opera Festival Not to be Missed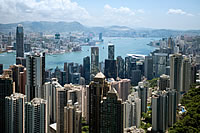 Hong Kong's annual Chinese Opera Festival is a highpoint of the city-state's year. Taking place over nearly a two month period in June and July, this festival is a fabulous opportunity to explore the sheer variety of the extremely unique musical form that is Chinese opera and a fabulous excuse to travel a long distance to this fascinating destination.
Organised by the Chinese Government's Leisure and Cultural Services Department, this amazing festival explores the seven distinct forms of Chinese opera, from the traditional to the modern. They include Peking, Cantonese, Kunqu, Chiu Chow, Pingtan, Gaojia and Qi. Each opera will feature subtitles in English and Chinese, allowing audience members to truly understand and get to grips with this complex theatrical art form.
Over hundreds of years, a fair number of distinct forms of Chinese opera have emerged. Gaojia and Qi are very ancient forms of opera and rarely performed nowadays, so this is a wonderfully unique opportunity to hear these forms performed live. Kunqu, with its history going back over 600 years, is considered to be the mother of modern forms.
The operas are performed by a wide number of highly regarded performers from mainland China and Hong Kong and the festival also includes fascinating talks, brilliant exhibitions and interesting workshops. Whether you are in Hong Kong on business or for pleasure, be sure to make this festival a part of your itinerary.