Phuket Cheapest Business Class Fares
The cheapest Business Class flight to Phuket was £2099 with KLM, followed by Air France at £2099 and Austrian Airlines at £2142. Other airlines with business class fares include Aeroflot and Qatar Airways.
To search and book business class flights to Phuket from the UK, please fill in your travel requirements above and click the search button. The fares we display are found by actual searches made by Just the Flight customers within the last 7 days.
Phuket expands Airport to cope with Growing Demand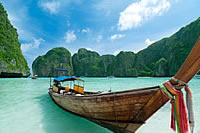 Phuket airport is the second busiest airport in Thailand handling up to 6.5 million passengers every year. The popularity of this idyllic destination never seems to wane and expansion is taking place to deal with the growing demand. In 2010, passenger numbers rose by 22%, underlining the urgent need for airport expansion.
Investments have been made into future expansion and improvements on the airport. A brand new terminal is in development and is expected to be able to process up to 12.5 million passengers a year, almost double the current number.
Phuket hotels are also rising to meet the tide of visitors with major chains such as Movenpick opening a brand new hotel on the site of the former Palm Beach Club. The 159 luxury suites will have outdoor plunge pools, sundecks, and outdoor showers. All rooms have enjoyed renovations to a high standard. Swiss-based Movenpick seeks to open a further four hotels in Thailand in the future, bringing their portfolio up to six Thai hotel resorts in total.
The Kata Group is developing the Khaolak Cassoway resort and Spa and is spending B1.2 billion to ensure that the development is a resounding success among the stiff competition on the luxury end of the market.
Property development is big business in Thailand and as Phuket's airport seeks to expand in the next few years, it is clear that the hotel and real estate business is about to profit handsomely.